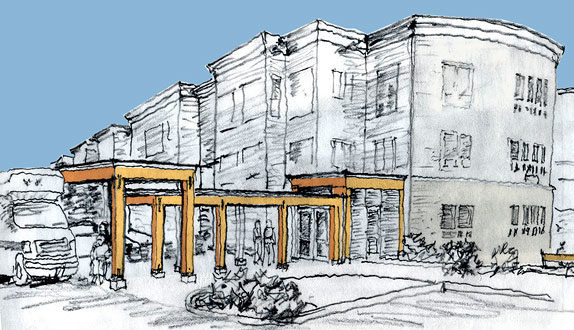 Design Completion:  2012
Construction Cost: TBD
Square Footage:  48,000 SF
Location:  Seattle, Washington
Client:  Era Living
Schematic Design for Skilled Nursing Remodel
Ida Culver House is an example of design that responds to the ongoing transformation in consumer expectations of skilled nursing care, a transformation that is led by a general trend to increase options for senior living lifestyles. The 3-story Healthcare Center at Ida Culver Broadview is part of a larger, mostly independent senior residential community. The goal of Era Living was to update the Healthcare Center, as the rest of the campus had already been updated.
SAGE Architectural Alliance recommended modifications to transform the 1st and 2nd floor skilled nursing, highly medical environments dominated by their nurse stations, with uniform fluorescent lighting and many spaces underutilized for their intended purposes. SAGE worked to create a new residential atmosphere for each floor.
Design work includes a new covered entry and an enlarged physical therapy area. The first floor Skilled Nursing Memory Care is transformed into two internal neighborhoods around country-kitchen style dining rooms. The second floor Skilled Nursing Rehab is redesigned into a well-fitted, hospitality environment for those expecting to soon return home. Modifications include displacing the central nurse station with a fire-place lounge that partially screens the charting area. Medical carts and equipment are all removed from view by placing them in convenient niche locations. Mini-nurse stations along the residential corridor bring care-staff closer to the resident rooms for resident engagement and efficiency.