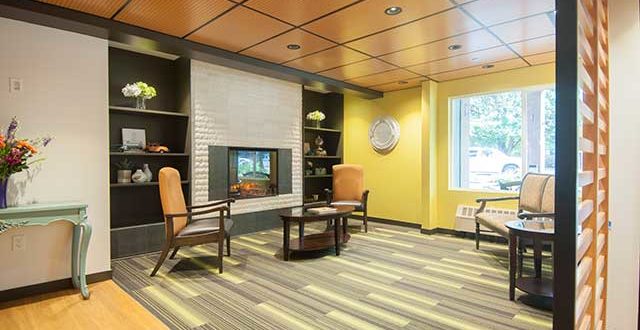 Completion:  2017
Square Footage:  5,400 SF
Construction Cost:  $500,000
Location:  Seattle, Washington
Client:  Foss Home and Village
Lobby Renovation
The renovation of the Foss Home lobby dramatically transformed the main entry lobby to a welcoming and attractive community space. The new lobby is a radical departure from the previous medical environment, which dated from the prior, 1994 renovation. Instead of the nurse station dominating the main entry lobby, the renovated lobby provides warm hospitality. The main entry now features the reception desk, gift shop and fireside lounge, all designed with hospitality in mind.
Interior Design
The arrival area features a faux-wood floor and wood-paneled ceiling that is accentuated by dark column and beam structure. The color palette is designed to lighten the serious nature of skilled nursing and rehab by appealing to a sense of visual delight. The atmosphere is brightened with yellow, orange and light green in addition to the sparkle of accent lighting.
Improved Sense of Community
The fireplace seating area to the side of the main entry has taken the place of the nurse station. This creates a wonderful people-watching spot for residents waiting for their ride. From this spot, residents can watch all the activity of the community. The fireside is also a great space for meeting with visitors or just watching the flicker of the fire. Connecting the interior of the lobby to the outside world, natural light has been more than doubled by adding new exterior windows, bringing light deep into the center of the lobby.
Improved Function
Relocation of the nurse station has provided benefits for staff as well as residents. The nurse station is now more ideally located, beyond the reception desk, just down the hall where there is strong visual connection to the main dining room and much of the daily event activity. The nurse station was also down-sized because nurses now use mobile carts and spend less time at a central location.