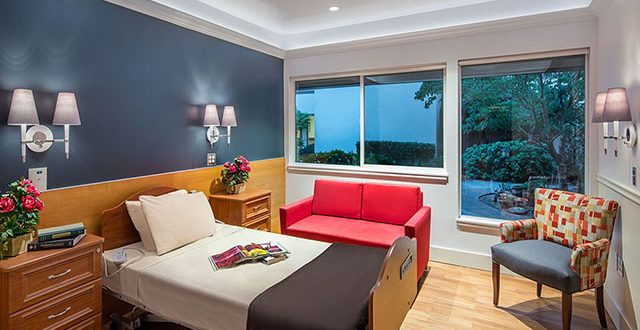 Completion:  2017
Square Footage:  1,200 SF
Construction Cost:  $200,000
Location:  Seattle, Washington
Client:  Columbia Lutheran Home
Hospice Suite Interior Design
The project goal was to transform the typical medical-looking skilled nursing room into a warm and comfortable home-like bedroom that could be used as a private room or specifically for hospice. The private suite required a clean, residential appearance with highly durable and low-maintenance products typical to institutional design.
SAGE used multiple techniques to succeed with the challenge of pairing institutional design with home-like comfort.
Color and Material
Color and material contrasts create visual interest. Instead of monotonous white walls, a dark accent wall creates a focal point for the room. The rich, dark color of this wall contrasts with the warm, reddish brown color of the wood wainscot. The bright, warm colors of the fold-out couch and upholstered chair are important design elements bringing additional rich colors to the space. Residential touches include the white beadboard wainscot opposite the dark-colored wall, baseboard molding and the intimate placement and style of the light sconces. All of the wainscot surfaces and trim utilize highly durable composite materials, able to resist wheelchair and equipment impact as well as a heavy cleaning regiment.
Lighting
Lighting for residential ambiance is an important design element to the project success. The bedroom features crown molding wrapping the upper perimeter of the room that is fitted with a linear LED rope light on a dimmer switch. The effect is magical, providing a seemingly invisible source of soft indirect light reflecting off the ceiling.