Valerie Thiel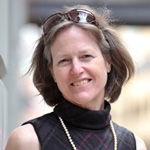 Valerie Thiel, AIA, LEED AP, Certified Passive House Consultant, with a background in both architecture and structural engineering, is the founding principal of SAGE Architectural Alliance. She has over 30 years of architectural experience and 20 years in the field of senior and special needs housing. Valerie is a regional leader in cutting-edge innovations for senior lifestyles and a passionate advocate for affordable senior housing. A frequent speaker at Washington Health Care Association, LeadingAge, and Housing Washington Conferences, she has spoken on the topics of sustainable design best practices, innovations in senior housing, design for social connection, and creating the intergenerational urban village.
Education
Master of Architecture and Master of Structural Engineering, MIT
Bachelor of Science in Structural Engineering, University of Washington
Certifications
LEED AP


Larry Sinnott

Larry Sinnott, AIA, LEED AP BD+C, architect and principal (CFO, CTO), is our lead on sustainable design and product selection. He has experience in mixed-use, multi-family and single-family design. His strong interest in urban design led him to work as an activist in the Sound Transit station location at Roosevelt and the SR 520 Montlake/western approach design. Larry also has a background in commercial and residential construction.
Education
Master of Architecture, University of Washington
Certifications
LEED AP and BD+C
Laurie Allison Wilson

Laurie Allison Wilson is a principal architect with 30 years of experience. She offers design and technical expertise in a broad range of residential and commercial projects. In 2010, she founded the Cities for All Project, a design consortium focused on innovations in green technology and affordability. Laurie has presented her research around the connections between African architecture and African-American culture to numerous organizations in Seattle.
Education
Bachelor of Architecture, Cornell University
Kim Anh Tran-Dinh

Kim Anh Tran-Dinh is an associate and architectural designer with a background in affordable housing. Kim is expert at site planning and design visioning. Her facile skills in three-dimensional modeling allow her to create quick sketches of the project design directions. These skills allow the client to easily visualize options and make decisions. Kim has a strong understanding of construction, having volunteered with Habitat for Humanity projects over the course of many years. She was a 2016 participant in the Housing Development Coalition (HDC) Leadership Training program for promoting affordable housing. Having come to the United States as a young immigrant, Kim understands the importance of housing for family stability and cares passionately about helping families succeed.
Education
Master of Architecture, University of Illinois at Chicago
The Passive House graphic logo and CPHC® are certification marks of Passive House Institute US (PHIUS). Used under license.